Leaning into the light
0 Flares
Made with Flare

More Info

'>
0 Flares
×
In my mind, I'm sitting on a sandy white beach. I'm lounging in one of those fancy cabanas the size of a full-size bed, bordered by white curtains fluttering in the coastal breeze. I tilt my face up to the sun, letting it soak in through my pores. I imagine it filling me with soft, golden sunlight. I can almost feel the warmth. And that's no easy feat in frigid February.
This mental beach vacation has become an almost daily trip the past few months. With the pandemic making a real vacation impossible, the voyage in my mind is as close as I can get. But at least the light is real. To combat a serious case of the winter blues, I finally bought one of those light machines I'd read about for years – the kind that are scientifically shown to help improve mood, concentration, sleep patterns and energy levels during the darker winter months.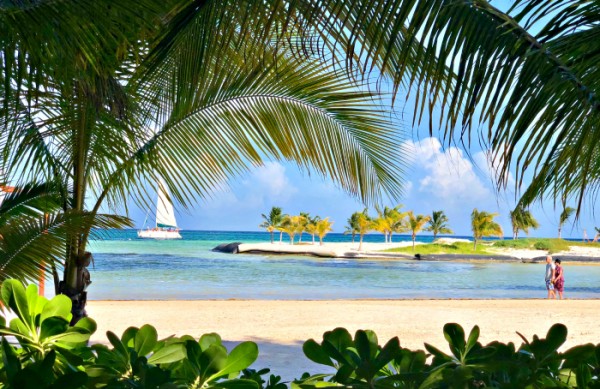 So far, I think it's working. If nothing else, it reminds me how important it is to lean toward the light – both literally and figuratively. Because for our family, the past 14 months have been so dark, with threatening clouds always on the horizon, clouds that sometimes move in with terrifying storms.
Our youngest child – our daughter Kate – was diagnosed with epilepsy in January of last year, just days after she turned 13. Since then, we've all been battening down the hatches, trying desperately to hang on as a disease we didn't understand tossed us back and forth with its sudden, fierce winds and lightning-fast seizures.
I haven't written about it until now for a lot of reasons, the biggest of which was to protect her privacy. (She gave me permission to write this column, now that the condition has become part of her daily life.) But I also haven't written about it because the emotions are still so raw for me, because worrying about her health can and does inflate a giant lump in my throat and sends tears to my eyes in seconds.
I also haven't written about it because it reminds me of a hard lesson I learned 20 years ago when my brother, only 34 at the time, died suddenly – that our lives can change in an instant. That they can go from relatively easy to devastating in less time than it takes to sit through a stoplight. It's not an easy lesson for anyone to accept, especially those of us who like to delude ourselves into thinking we're in control.
This past year, Tom and I have watched our baby girl – who is built like Tinkerbell and is just as magical – fall to the floor with a hard thud and then convulse, her eyes going blank. We have lived through those mind-racing minutes that feel like hours, praying it will end, praying it will pass without hurting her, cradling her head so it won't hit the floor.
We time seizures carefully so we can be ready to give her rescue medication if it goes a second too long. Her doctors trained us in what to do. What they can't teach us is how to stop living in a constant state of "fight or flight," how to manage the hypervigilance that moves into your home, and your heart, when your child has a lifelong condition.
Even days without seizures can be dark. Over the past year, she has battled side effects that often come with medications. Some side effects can turn you into a sluggish zombie, devoid of your true personality. Others can send you racing to the bathroom to be sick again. Thankfully, after three different attempts, we finally found a medication with almost no side effects. It's an incredible blessing.
Most kids with epilepsy see their seizures stop with the use of medication after just a few months. Kate's case has been trickier, and we're still searching for that just-right combination of treatments that will make her seizure-free. We've made strides in the right direction. We have incredible, compassionate doctors who are guiding the way. And we found an insightful, talented therapist who is helping us learn to manage the sometimes crippling anxiety this experience has hauled in by the truckload.
She reminds me that I can't help protect and nurture my child's physical or mental health if I let my own deteriorate with neglect. And that brings me back to the beach – my morning ritual of sitting under this weird-looking therapeutic light and letting my mind tune in to a trouble-free, sunny place where the only problem to be solved is figuring out which way the breeze blows.
When my mental beach time is over, it's easier to face the day and whatever it brings. It's easier to remember the cherished friends and family who keep us strong. It's easier to remember that we will eventually emerge from this pandemic and stand in the real-deal sun again, maybe even on an actual beach one day.
Until then, my friends, we welcome any prayers for our strong, brave daughter. And we encourage our fellow travelers, those of you on your own dark journeys, to lean into the light.
Gwen Rockwood is a mom to three great kids, wife to one cool guy, a newspaper columnist and co-owner of nwaMotherlode.com. Her book is available on Amazon.