Loss during the most wonderful time of the year
0 Flares
Made with Flare

More Info

'>
0 Flares
×
Sometimes hard things happen during what's supposed to be "the most wonderful time of the year." About a month ago, it happened to us.
As reported in an earlier column, our house is a mishmash of three generations. More than a year ago, my parents moved into an in-law's apartment we built onto the back of our house. We range in age from 13 to 82. When my folks moved in, they brought their dog, Boots, which only added more four-legged happiness to a home already full of dog toys and one judgmental cat.
Boots was a small mixed-breed rescue – solid black with white feet (hence the name) – and his hobbies were eating meals, eating snacks, and sleeping on the bed with his humans.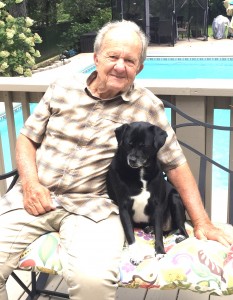 He was the sweet-natured shadow constantly tagging along behind or snoozing at the feet of my 82-year-old father.
When Boots got sick last month, it happened so fast. After some mild nausea and picky eating, I noticed the whites of his eyes had turned yellow. I took him immediately to the veterinarian, who ran a blood test that told us he was in liver failure.
We didn't know why his liver was failing, and the vet and her staff tried for more than a week to figure it out. He had intravenous fluids for five days, and we tried several medications. Although his appetite and energy level improved, his liver was still failing. Our vet referred us to a nearby specialist who did an ultrasound.
The ultrasound showed an enlarged gall bladder, which I thought was good news since dogs usually recover from gall bladder surgery. I handed Boots over, intending to visit him in the animal hospital once he woke up afterward.
But then the surgeon called to say that, after beginning the surgery, he found an inoperable tumor on the pancreas. It was advanced cancer. By the tone of his voice, my gut knew it was over, but my heart held out hope for any other option. When I asked the specialist what he would do in this same situation, he said he would choose to euthanize the dog rather than putting him through the pain of recovering from surgery, considering the ultimate outcome would be death.
So, with that devastating recommendation, we let him go without a final goodbye. The shock and the raw pain of it wiped us out. Mom and I had to break the news to my dad, whose only tear-choked words were "but he was my buddy." For the next week or so, we drifted around the house trying not to anticipate Boots around every corner. We put his photo in a small ornament on the Christmas tree.
The next week I texted our vet to thank her for all she'd done to try to help. And I told her that eventually we'd like to find another rescue dog who might have the right temperament for my dad. I asked her to keep us in mind if she happened to come across the right type of dog sometime in the future.
An hour later, she called. That very same day a rescued puppy had been brought to the vet's clinic. She was only 5 months old and had been found roaming and starving on a country road. The vet said, "If you think you're ready, you can come and meet her."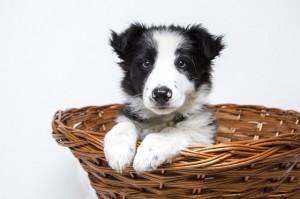 Mom and I did go meet her, and we did the thing most animal lovers do when they hold a dog in need. We fell in love. On the day after Thanksgiving, we brought her home. She's an 11-pound Sheltie mix who's mostly white with a few black and brown spots and ears that can't decide if they want to stick straight up or flop over a bit.
I carried her into my mom and dad's apartment and stopped in front of Dad's chair. "Dad, this little stray dog was found roaming around and starving, and she really needs a home."
His eyes got wide and lit up for the first time in weeks. "And I need a dog!" He held out his arms and scooped her up. They had officially rescued each other.
One of my favorite comic book writers, the late Charles Schulz who created Snoopy, once wrote "Happiness is a warm puppy." He was so right. This new warm puppy has been a healing balm. She is joy on the heels of sadness.
Because of her cute spots, we named her Freckles. Her hobbies are running, chewing things, trying to eat stuff from the trash, attempting to steal low-hanging ornaments from the tree, jumping, meeting new people, barking at the crushed ice maker, snuggling, and giving puppy kisses whether you want them or not. She is a very good girl who is learning to sit and fetch. And we are learning that life is still good, especially during "the most wonderful time of the year."
From our tail-wagging home to yours, we wish you a very Merry Christmas.
Gwen Rockwood is a syndicated freelance columnist. Email her at rockwoodfiles@cox.net. Her book is available on Amazon.