Taking the stage
0 Flares
Made with Flare

More Info

'>
0 Flares
×
Tomorrow I'm going to watch my 12-year-old daughter take the stage. She has spent three weeks of her summer break taking theater classes, and tomorrow I'll see the second of two plays in which she's acting.
For most kids this wouldn't be newsworthy. But for Kate – who has struggled with crippling shyness – this is huge. Shocking. Almost miraculous.
As a recovering shy girl myself, I'm still astonished at how Kate was drawn to theater last year. The first time she asked me to take her to an audition, I played it cool and nodded my head. "Sure," I said. Then I sprinted upstairs to find Tom, shut the door and whisper-yelled, "Oh my gosh, Kate wants to audition for a play! Can you believe it?"
"Wait a second," he said. "So, you're saying that our daughter who is too shy to tell the waiter that she wants a cheese quesadilla now wants to talk to strangers on stage?"
"It sounds crazy, but wouldn't it be amazing?" I said.
"Definitely."
So off she went to her first audition last summer. She got the part of a talking tree in The Wizard of Oz. Then she played a king in a school production of Alice in Wonderland. A few weeks ago, she played the lead role in a short comedy about a teenage girl who procrastinated finishing her homework because she was barraged by the shiny distractions of the Internet. And tomorrow she'll be playing the part of a wolf who raises a human child, Mowgli, in a production of Jungalbook.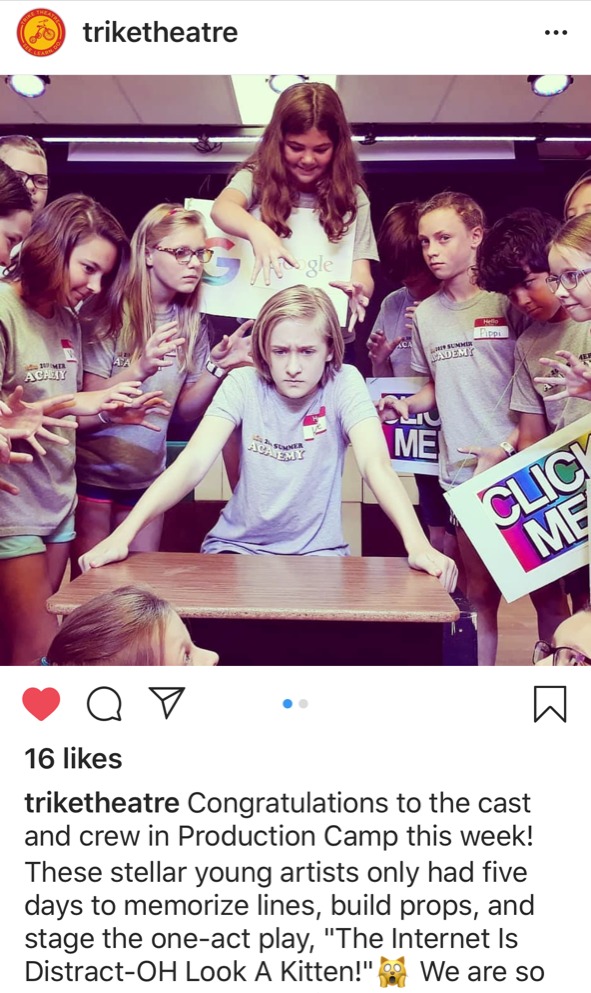 During her most recent performance last month, I sat in the audience – probably feeling more nervous than she did – and marveled at the way my quiet girl could walk to center stage and deliver dozens of pages of dialogue complete with body language, facial expressions, and comedic timing.
In those moments I realized that, ironically, the stage sets her free from the shyness that restricts her in everyday life. There's something about performing that flips a switch in her mind. It breaks the chains of social anxiety and allows her to try anything.
It's a phenomenon that's not uncommon for performers. Oscar-winning actress Emma Stone said she suffered from debilitating shyness as a young girl. Early in her career, singer Beyoncé even invented her own brave alter ego named Sasha Fierce who helped her become a force of nature on stage. Even seemingly fearless comedians like Will Ferrell were once shy. I imagine all three celebrities still feel that familiar anxiety creep in now and then.
That's why it's such a blessing when those of us who struggle to slay our shy dragons find a place to be free. When I was growing up, the voice I couldn't find out loud showed up on the page. With a pen and a notebook, I could be the real me – the one who knew what she wanted to say and how to say it. It's still the place I feel most at home.
So, I'm beyond grateful that Kate, too, has found a creative outlet where she's free.
Last night we went out for dinner, and the waiter came to our booth with an order pad in hand. Suddenly my little girl – the one who used to whisper her order in my ear so I could relay it to the waiter – spoke up loud and clear in the same kind of voice you might hear on stage: "I'll have the bowtie pasta in butter sauce, please."
Wow, I thought to myself. We've come a long way, baby. Break a leg, kid.
Gwen Rockwood is a mom to three great kids, wife to one cool guy, a newspaper columnist and co-owner of nwaMotherlode.com. You can read more of Gwen's work by getting her book on Amazon by clicking here.