Wife welcomes back Fall boyfriend
0 Flares
Made with Flare

More Info

'>
0 Flares
×
"Ah, there you are." Last night's thunderstorm brought rumbles of his arrival. I went to sleep hoping for the long-awaited return. Like a sweetheart coming home after a long trip overseas, autumn is officially back. And I'm falling for him all over again.
The storm was over by morning. When I woke up and stepped outside with the dogs, we could feel the shift in temperature. The dogs sniffed and wiggled their black noses into the noticeably cooler breeze. They looked at the sky and then back to me as if to say, "Well, this is different."
Gone was yesterday's stale, humid air. I was glad to see it go. My relationship with summer was hot, but like most intense relationships, it burned itself out. It was too much. I needed a break. Summer was hanging on way too long when clearly my feelings had changed. By late August, that clingy summer fling had killed my grass, burned my skin and left me yearning for a cool down.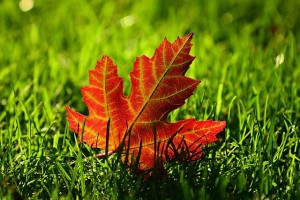 Fall is the new boyfriend I want to meet out for coffee – and I don't even drink coffee. (I'll have cocoa instead.) Fall might even convince me to ditch the old ratty t-shirt I've been living in for weeks now. Maybe I'll dress up! Maybe I'll put on that favorite sweater from last year and let my hair down out of its ponytail. With temperatures in the low 70s today, I won't have to worry about hair sticking to the back of my neck or getting frizzy by noon.
I might even be tempted to put on a little make-up, since now it won't melt and slide down my face after losing an argument with the humidity. A cute sweater, makeup and a hairdo? Tom will think a whole new woman has moved into the house.
Fall is the season that makes me want to snuggle under a blanket. Fall beckons me closer to the fireplace. He even makes me do crazy things like buy pumpkins just so I can cut holes in them and set them on the front steps to slowly decompose. It sounds crazy, I know, but Fall can talk me into just about anything.
By the last day of October, I'll even be opening the door to little ghosts and goblins and handing over my beloved fun-size Twix bars. This seductive season is charming enough to make a woman give away her chocolate!
Fall also tempts me to cook even though my skills aren't what I wish they were. But by the last Thursday in November, I'll have the oven running full tilt with things like turkey, dressing, dinner rolls and pumpkin pie. Our extended family will come over so we can all feel thankful for our relationship with Fall. Then we'll eat so much that we have to undo the button on our jeans so they won't cut off circulation. I can hardly wait.
Of course, I know Fall isn't perfect. He brings his own baggage like most relationships do. His bags will be full of leaves in a few weeks after he makes a mess of the yard, littering it with the oak tree's leaves and the pine tree's needles and cones. But I don't mind. At least Fall paints the town in rich red and vibrant orange before he tucks the trees in for their long winter's nap.
I can already tell this romance with Fall will be too short. He's a "love-em and leave-em" kind of season. I will revel in it while it lasts. I'll meet up with friends at an outdoor café and absorb these perfect patio moments deep into my soul. Because one day, long before we're ready, Fall will silently slip away into the cool night air, leaving us wanting more.
Gwen Rockwood is a mom to three great kids, wife to one cool guy, a newspaper columnist and co-owner of nwaMotherlode.com. Her book is available on Amazon.