Popular Posts
0 Flares
Made with Flare

More Info

'>
0 Flares
×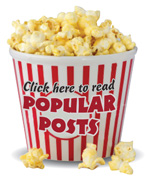 I started writing The Rockwood Files newspaper column when I was a baby. Okay, technically I was out of diapers but I was only 22 years old, and — let's be honest — most 22-year-olds are still babies whether they know it or not. I had a LOT of growing up still to do, and I chronicled those life lessons in the column.
And here we are, almost 20 years later, and I'm still "growing up" and watching my three kids do the same. But two decades of column writing have taught me the best pieces of writing are the ones that readers talk about most. So I've compiled a few favorites here and hope you'll enjoy revisiting them or reading them for the first time.
Click here and then scroll down to read these Popular Posts.