A Vacation Unicorn
0 Flares
Made with Flare

More Info

'>
0 Flares
×
It happened – the rarest of family vacation experiences. It has never happened before and may never happen again, which is why I must document it here for the sake of posterity and to give parents everywhere hope that it's possible.
On our recent trip to Minneapolis, Tom and I took our three kids to the amusement park he'd visited as a child – Valley Fair.  We arrived before the gates opened and hoped the morning rain shower wouldn't wash out our plans.
We debated about buying "fast passes" for the kids. These passes allow you to stand in shorter lines for rides, which means you spend more of the day riding and less of it standing around sweating. But fast passes are also a fast way to empty your wallet, costing $150 for three kids. We decided to take our chances without the fast passes and hope for the best.
On our first ride, not only did we not have to wait in line, we were the only people on it. I pretended we were VIPs who'd bought out the entire park so as not to be bothered by the paparazzi. The ride was amazing, and we scampered off to the next and the next. By then, the clouds had parted and the sun was peeking through. The temperature was a perfect 82 degrees without an ounce of humidity.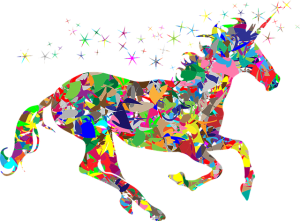 But the most remarkable part was that we never waited in line – ever. Anyone who has been to an amusement park knows just how rare that is. It's the unicorn of all vacation experiences. You dream of it, hope for it, but you know deep down it's not going to happen.
And yet  it did.
We kept expecting it to end. Surely the crushing crowds would come. They'd catch wind of our good fortune and show up to spoil it. But they didn't. We meandered through the park, walking on to each ride. We even rode the park's largest roller coaster two times in a row simply because we could.
By 2 p.m., we'd criss-crossed the park and been on every ride we wanted. We decided to break for lunch, and that's where the story takes a turn back toward reality. In our haste to get to the park early, we'd neglected to pack a picnic lunch to eat outside the gates.
Luckily, we spotted a Subway inside the park. We'd been burned by other amusement parks in the past, who charged penthouse prices for what turned out to be inedible chicken fingers. At least at Subway, we'd know what to order and what to expect.
As we'd hoped, the food was good, but we paid $75 for it. Keep in mind that only covered sandwiches for five people who shared one bag of chips and one bottle of water. We took comfort in the fact that we'd skipped buying those fast passes, so we were still coming out ahead.
We finished the day with a visit to the adjoining water park, where we slid and splashed to our heart's content. The people-watching was fabulous, too, although we still haven't recovered from a few of the R-rated bathing suit choices we witnessed along with some inexplicable tattoo designs. They were the proverbial train wreck you don't want to see yet can't look away from.
It was a small price to pay, however, for what will go down in family history as that time we went to an amusement park, walked on to every ride with no waiting, never felt crowded, ate decent food and enjoyed perfect weather.
Vacation dreams really do come true.