Anniversary of the worst day
0 Flares
Made with Flare

More Info

'>
0 Flares
×
Every year about this time, I wish there was a fast-forward button for life. I wouldn't skip much – just a few days or so.
Like most families, mine has an anniversary we don't celebrate – one we dread the approach of because it renews the grief we felt the day we got the news. Even though it has been 16 years since it happened, we remember with painful clarity how devastating it was when my 34-year-old, larger-than-life big brother died suddenly in his sleep on April 20th.
Loss imprints on people in a way that often includes the season in which it happened. Even though I love Spring's warmer temperatures and blooms, I doubt there will ever be another April in my life that isn't tinged with sadness. Because it was an April day when I stood at a graveside ceremony and noticed how blue the sky was and how warm the breeze was and wondered how the weather could be so perfect on the worst day of my life.
I've talked to others who have experienced either a loss or a traumatic experience like a diagnosis, and they say that they, too, have felt this "emotional muscle memory." You can try willing it away, but your body stores up the tension as the anniversary approaches. Things that wouldn't ordinarily bother you seem bigger. Your heart is dangerously close to your sleeve.
It's almost as if you're subconsciously bracing yourself for the impact of the trauma all over again. Even after years have passed and there have been seasons of great joy again, the days leading up to the grief anniversary have a way of taking you back to Day 1 – the sadness compounding with interest over time.
In the past few years, I've begun setting a reminder on my phone for six months and then a year past the date of when a friend's loved one passes away. I do it because I know that when those emotional mile markers come, it will be easier for that friend to face them alongside people who love her – people who know this date will never again be "just another day."
Muscle memory is defined as a type of learning formed through physical repetition – like typing or riding a bike. You do something so often that you can eventually do it without thinking about it as much. Even though emotional muscle memory can feel like a burden leading up to a grief anniversary, physical muscle memory helps you through every other day of the year.
In the days and weeks following a loss, one of the things you wrestle with is this one big question that feels impossible to answer: "How will I go on?" But then you do things. You put on your socks, you drive your car, you brush your teeth, you go to work. And the muscle memory of daily life carries you through those first few terrible months. It doesn't happen quickly, but eventually you become a person who, like so many others, makes the most of your life, even as you carry a tremendous hurt in your heart.
For me, April's apprehension and the familiar knot of grief in my throat eases when the sun sets on April 20th. I'm always grateful to be past it for another year. I say a prayer for the person whose "worst day" is the next day or the day after that.
Then I put on my socks, get back on my bike, type out the words and feel thankful for the memories – not only for the people I miss but also for the muscle memory that carries us forward – into another day full of potential. Into Spring.
Save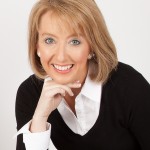 Gwen Rockwood is a mom to three great kids, wife to one cool guy, a newspaper columnist and co-owner of nwaMotherlode.com. To check out Gwen's book, "Reporting Live from the Laundry Pile: The Rockwood Files Collection," click HERE.
Save
Save