My bra is showing
0 Flares
Made with Flare

More Info

'>
0 Flares
×
I've been all over town with my black bra showing – and it's entirely my husband's fault.
Let me explain.
It started a few weeks ago when Tom drove the kids to gymnastics lessons in my minivan. I stayed home to catch up on work. On the way home, he hit a deer – a big one.
Thankfully, he and the kids weren't hurt, and, shortly after impact, the deer got up and ran off into the woods. The minivan bumper, however, was not so lucky.
I told Tom he shouldn't worry about the bumper since the new dent would blend right in with all the other minor dings and dents we've racked up over the years. Just a few months ago, I backed out of our garage in a big hurry and gave it a decent scrape myself.
The minivan's interior hasn't fared much better. We got it right before our third baby was born seven years ago, which means the seats have been coated in a series of baby spit-up, spilled chocolate milk, chicken nuggets, barbecue dipping sauce, dripping ice cream cones, and so, so much more. We've taken it on plenty of 11-hour trips to Minnesota to visit grandparents, and a few times the curvy roads triggered car sickness episodes where the minivan's carpet came out on the losing end.
Other than this perpetual "weird smell" that no amount of cleaning seems to get rid of, I don't mind how the van looks. Besides, we mothers give up all hope of being cool the second we step foot into a minivan.
But that deer dent was bugging Tom, so he took it to a body shop to get an estimate. When the estimate for a new bumper gave him sticker shock, he asked if they could possibly try to "pop it out." The repair guy said if it was summer, there might be a chance of popping it out, but it wouldn't budge in frigid temperatures. So Tom thanked him for the estimate and said he'd think it over.
Then he came home and took matters into his own hands – literally. While I was out of the house shopping, he took the bumper off the van and hauled it upstairs to our bathroom, where he proceeded to recreate summer-like conditions. He ran our Jacuzzi bathtub full of hot water and steamed up the place as best he could. After the bumper had a nice, relaxing soak, Tom fished it out, dried it off, and did a chiropractic treatment on it. And "pop!" It worked.
No one was more amazed than he was – except maybe me when he told me about it later that day. "You put the bumper in our bathtub?" I asked, incredulous.
"You're missing the point, honey," he said. "I fixed the dent! But there are still some scratches from the deer and from that time you ran into the garage, but don't worry because I bought a black car bra to cover them up."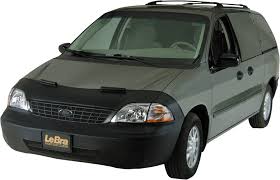 For those of you who, like me, didn't realize that cars have their own line of faux-leather lingerie, let me explain. A "car bra" goes on the front bumper, allowing the headlights to stick out, and it's designed to protect the bumper and fenders from scratches and chipped paint, or – in our case – cover up imperfections we already had.
I admit I'm impressed with how Tom got all McGuyver on the bumper and popped out the dent. But I'm not sure I'm comfortable parading around town with my new black vinyl bra hanging out, especially when Tom says (to friends and neighbors and even my own father): "Hey, did you see Gwen's new bra?"
It's embarrassing! Immodest! My minivan and I are not those kind of girls.
# # #