Spicing up the New Year
0 Flares
Made with Flare

More Info

'>
0 Flares
×
I don't have it all together and, most of the time, I feel like an imposter pretending to be a grown-up. But you'd never know it by looking at my spice cabinet.
One of my main gripes about a New Year is the pressure to do more, be more, and have more. All the relentless resolution-making wears me out. Just when you think you're an acceptable human being, January rolls around and makes you feel like a lazy loser in dire need of a life makeover.
But I know that any grand promise I make in January often turns out to be an "oh well" by the time I hit March. For me, small changes have the best shot at long-term survival. So I made one and then fell in love with it.
For most of last year, I opened the spice cabinet in my kitchen and one of two things would happen. I'd either fumble around in there, moving various bottles in a vain attempt to find garlic powder or oregano. Or I'd open the cabinet to grab salt and get beaned in the head by a falling bottle of basil leaves. It was a disorganized mess, and I finally got frustrated enough to fix it.
I went online to search for tips on organizing a spice cabinet and found thousands of suggestions, but the most popular one was to get a set of matching spice jars. A set of twelve jars was under twenty bucks, so I decided to give it a shot. The people who post Amazon reviews on spice jars convinced me I'd be glad I did this. I even took their advice and ordered some cute chalkboard labels to put on the new glass jars.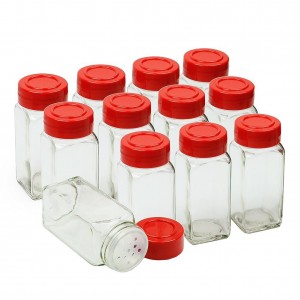 A few days later, the jars arrived, and I set about the task of cleaning out the cluttered cabinet. I watched an old movie on the kitchen TV while I used a funnel to pour things like nutmeg, thyme and cayenne pepper from their plastic bottles into the new jars. There were a few spills and sneezes along the way, but I got it done. I proudly stuck a label on each jar and then lined them up in the cabinet like spicy little soldiers, ready for duty.
Here's the crazy thing about this project. I'm not even a person who loves to cook. In fact, I barely tolerate it, and my skills are mediocre at best. But when I look at my newly organized spice cabinet, I feel like a pro – someone who knows her paprika from her peppercorns. More importantly, I love how this one change turned cabinet chaos into a small oasis of order. Martha Stewart would weep tears of joy over this thing. Sometimes I open the cabinet for no other reason than to stare and appreciate what an improvement it is.
What I learned after my self-imposed spice jar intervention is that progress and order can be contagious. One cabinet transformation often leads to another and then to a drawer or a pantry or maybe even a whole closet. The next thing you know, you're a person whose tube of toothpaste has its own little compartment in a bathroom drawer organizer tray.
Of course, real life has a way of sneaking into almost any orderly space or well-intentioned routine. Most of my other cabinets and drawers are far from Pinterest-perfect. And on most days, my Fitbit tracker has to live with disappointment. But I must admit that, even though I roll my eyes at January's overzealous goal-setting, making one small change can often be just the thing you need to lead you into a better way of doing things.
They say variety is the spice of life. I would add that being able to see the variety of your spices is pretty darn good, too. Pass the paprika, please.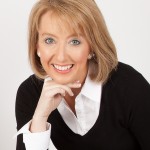 Gwen Rockwood is a mom to three great kids, wife to one cool guy, a newspaper columnist and co-owner of nwaMotherlode.com. To check out Gwen's book, "Reporting Live from the Laundry Pile: The Rockwood Files Collection," click HERE.
Save
Save