Sweatpants shame
0 Flares
Made with Flare

More Info

'>
0 Flares
×
One of the greatest writers of all time, the late Erma Bombeck, once made this profound statement: "I am not a glutton – I am an explorer of food."
So, I know Erma would've understood the predicament many of us find ourselves in now that it's June 2020. Since March, most people have been staying home because of the global pandemic, and some of us have done some hard-core "food exploration." Like, around the world and back again. Maybe even a mission to Mars.
I've visited the beaches of banana bread. The coastline of custard. The mountain peaks of pasta. I've explored enough foods to make Magellan himself reach for a bottle of antacids. 
In my defense, there was a lot of anxiety-fueled snacking going on. When the world feels like it's falling apart, the number of carbohydrates you consume no longer seems relevant. It would be like worrying about a hangnail when you're hemorrhaging from a fresh shark bite.
So, as the quarantine stretched on, so did the waistband of my pajama pants. But even elastic has its limits. The other day, I finished a shower, dried off and then rummaged through a drawer for a fresh pair of sweatpants. My oldest pair – the ones that have made the most trips through the washer and dryer – was right there on top of the stack. I furrowed my brow and pushed them aside. "Nope. I don't need your judgement today," I said.
That's when it hit me. I now have "skinny" sweatpants – the kind of sweatpants that are just a bit too tight and make me feel more accountable for all those food adventures. When a person realizes she has "skinny" sweatpants and regular (less judgmental) sweatpants, she knows there's a problem. When she takes off her comfy pants and finds the faint imprint of a waistband on her skin, it's like a temporary tattoo of shame. Clearly, things have gone too far.
Now that the economy and the weather are warming up again, I'm venturing out of the house a little more – face mask in place. Unfortunately, there are no masks for a person's mid-section or thighs. The CDC doesn't care that I nervously ate chips for a month while binge-watching the news.
The good news is that a coronavirus vaccine may soon be on the horizon. The spring rains have finally stopped. Maybe it'll be easier to get out of the house and walk off some of the adverse effects of all that quarantine food exploration.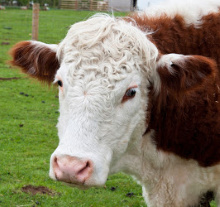 I'll soak up some sun. Feel the warm breeze on my face. I'll admire the green fields outside our neighborhood where a sociable cow often hangs her head over the fence and moos a loud hello to people passing by on the sidewalk.
Maybe when Tom and I are out walking, we'll run across one of those restaurants with an outdoor patio dotted with colorful umbrellas – the kind of place where they serve delicious food and then send you on your way, no dishwashing or clean-up work necessary.
Hmmm… that sounds like an idea worth exploring.
Gwen Rockwood is a mom to three great kids, wife to one cool guy, a newspaper columnist and co-owner of nwaMotherlode.com. Her book is available on Amazon.