Tales of a freelance flocker
0 Flares
Made with Flare

More Info

'>
0 Flares
×
One of the things my dad taught me about the working world is that it's always good to have "multiple revenue streams." That way, if one stream dries up or slows to a trickle, you'll have another one to keep you going.
Dad worked as a tree trimmer and landscaper for more than 40 years in a small southern Arkansas town. During the summers, he worked six days a week from dawn until dark and came home covered in saw dust and smelling like fresh sod. He owned his own small company, and, during summers, there was usually more work than he had time to do.
But late in the year, when the lawns settled in for their long winter's nap, the phone didn't ring nearly as often with new customers. So that's when he'd go on the hunt for a "side hustle" until spring.
A side hustle is basically an additional job that someone does for extra cash, aside from the person's real job. Dad was doing a side hustle long before millennials gave it a cool name and its own hashtag.
One year he paved driveways. One year he and my older brother got up at 4 a.m. several mornings each week to go unload an 18-wheeler at our local Sears store. For a few years, he sold fireplace inserts during those months when his main job was hibernating for winter. But the best side hustle was the year Dad bought a flocking machine and used it to turn Christmas trees white for the holidays.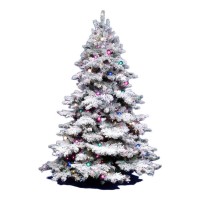 "Flocking" makes trees look like they've been dusted with a layer of fresh snow, which rarely happens in southern Arkansas where I grew up. So there was something extra magical about a tree that looked like it had been transplanted from the North Pole.
I was around 8 or 9 years old when Dad became a freelance flocker. (Try saying that phrase three times fast.) He had a machine that held the flocking material and a hose with a spray gun attached to the end. There was also a square, raised platform where he'd put the Christmas tree in its stand. The platform had a small motor and a remote-control, foot-powered "go" button that made the platform slowly rotate, allowing the flocker to keep the spray gun going while the tree turned and received an even coating of fake snow.
When dad wasn't home, my friends and I would take turns standing on that platform while one of us stepped on the power button that made it rotate. It became like a miniature stage, and we'd pretend we were glamorous Solid Gold dancers with big hair, sequined headbands and high-cut leotards our grandmothers would never approve of. Sometimes we'd pretend to be the newly crowned Miss America waving to the adoring crowds. That flocking platform could turn evergreen trees white and little girls into whatever their imaginations could dream up.
Yesterday, as I was out shopping for gifts, I saw one of those artificial Christmas trees that rotates on its base so you can enjoy the decorations on all sides of the tree. As I stood there watching it turn, I flashed back to memories of standing on that platform, slowly spinning in our carport. And I remembered all those side hustle jobs Dad worked over the years, which helped put gifts under the tree for me and my older brother.
The year he began flocking Christmas trees, he bought a small tree, flocked it white, strung it with colored lights and delivered it to my second-grade classroom. The teacher announced to the kids that it was my dad who had given the tree to use as a decoration for our classroom.
When you're a second grader, this kind of thing earns you some "cool points" with your friends, who clapped wildly when the teacher plugged in our snow-covered tree. I glanced around at my classmates and did my best pageant wave, the same one I'd perfected while playing on the rotating platform used by our family's freelance flocker.
To all the side hustlers out there, thank you for your determination and work ethic. Merry Christmas, and keep on hustlin'.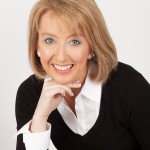 Gwen Rockwood is a mom to three great kids, wife to one exceptionally good man, a newspaper columnist and co-owner of nwaMotherlode.com.