The myth of being caught up
0 Flares
Made with Flare

More Info

'>
0 Flares
×
Now and then something rare and remarkable happens, like a solar eclipse, or the birth of a hamster with two noses, or a mother of three who gets completely caught up on the laundry.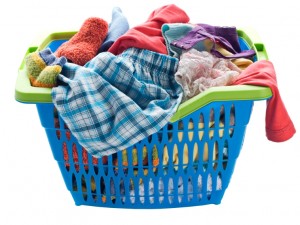 That last one happened to me over the weekend and it felt great – for about five minutes. I surveyed the empty laundry baskets and congratulated myself because, for once, I seemed to be on top of things. Then I realized that, despite my total laundry domination, I was behind in at least half a dozen other areas. (Insert heavy sigh here.)
Normal people probably resign themselves to the reality of an overflowing inbox and an always-growing "to-do" list that never gets done. But I'm just stubborn enough to believe that, if I work harder and become more efficient, I'll cross the last task off the list and feel a deep sense of peace and accomplishment.
I blame the Puritans and that pesky work ethic they passed down through the generations. For many of us, a "good day" is one in which we get a lot done. Some of us have become productivity junkies. We've never met a productivity app we didn't want to download, and if there's a new article or book about how to get more done, we want to read it.
If I totaled up the hours I've spent making lists or reading productivity books, there's no telling how many projects or loads of laundry I could have done in that amount of time.
But I'm beginning to think that being "caught up" is an urban myth, much like Bigfoot. People say it exists but nobody has seen it up close. Even the so-called photographic evidence is sketchy at best. The elusive beast is always disappearing into the woods, just out of reach.
I know many hard-working people. They're smart, highly capable, disciplined and motivated. Sometimes I bump into them around town and ask how they're doing. Not one of them has ever answered that question with "Great! I'm completely caught up on what I need to do." Most of them respond with something like this: "Good. Just really busy. It seems like there's so much going on all the time."
I wonder if they ever feel like I do – like no matter how much I do, it's never quite enough.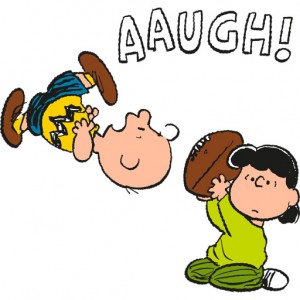 It reminds me of how Charlie Brown felt when he'd run full steam toward the football with every intention of kicking it, only to have Lucy pull it away at the last second. He'd end up flat on his back, wondering how it happened again.
But one of the reasons we love Charlie Brown is because he never gives up the quest to kick the ball. Even when the ball gets moved further away, even when he has tried and failed, he knows the ball is still out there. The possibility of kicking it keeps him running at it with all he's got.
So perhaps we should redefine what it means to have a good day. Maybe a good day is one in which we have opportunities worth running toward – a day when we're healthy enough to work at something, no matter how fast or slow we're able to go. And if we have friends around who help us up when we fall, what more could we ask for?
As for me, I'll just ask for time – time to run at it again tomorrow and time to rest when I've run too hard. As the wise, four-legged philosopher Snoopy once wrote, "Happiness is a new day."