The wonderful world of weird news
0 Flares
Made with Flare

More Info

'>
0 Flares
×
It's not easy to closely follow the national news these days. It can be frustrating and depressing at times. But recently I've found a refreshing option that gives news junkies like me a good dose of information, minus the political circus. It's called strange news.
If you do an Internet search for weird or strange news, you'll find a few different sources. NBC has a collection of it, as does the Huffington Post. But my favorite stash of strange news is compiled by the National Public Radio's website. It's the kind of place where you can read about a rare sighting of the world's largest bee – an insect described as a "flying bulldog" with a tongue that measures more than an inch long. Or you can read about how a group of nearly 3,000 people dressed up like Smurfs and gathered in a town in Germany. They came in hopes of setting a record of the largest gathering of Smurfs. In order to be counted, participants could not show even a sliver of "non-blue skin."
But my favorite strange news topic is about animals because they never fail to entertain. For example, a story about a pigeon named Olive made me realize that all types of parenting – even pigeon parenting – comes with its share of challenges.
According to the story by reporter Vanessa Romo, Olive the pet pigeon went on an outing with her human mother, Marlette, in Phoenix, Arizona. Although she had never done it before, Olive suddenly flew away from home upon returning from the outing. The family was devastated.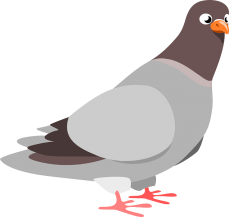 But four days later, in a town 10 miles away, a ruffled, hungry Olive was found by a woman who must have known instantly that she was not a run-of-the-mill pigeon. Why? Because Olive was wearing a rhinestone-studded flight suit. (No, really. She was.)
The kind stranger took the bedazzled bird to a nearby bird rescue shelter. The shelter's owner, Jody, said she'd never seen a bird wearing bling before and knew she must be a pampered pet who didn't know how to be a bird in the wild. She also assumed that Olive was most likely a teenage bird. "They kind of rebel at that age," Jody said, "and that's probably why she decided to go off on her big adventure." (Apparently teenage pigeons are just as cocky as their human counterparts.)
With the help of a viral Facebook post, the shelter was able to locate Olive's human family, and mother and pigeon were joyfully reunited. Hopefully, they both learned a valuable lesson. The human learned never to trust a teenage pigeon who thinks she knows it all. And perhaps Olive the rhinestone-studded pigeon learned that the only people putting out a food bowl for her live at home.
Olive's mother replaced the missing rhinestones in Olive's vest with new, even shinier crystals, and she and Olive have done a few television appearances since the bird's homecoming.
Can you see the appeal now of strange news? No horrific natural disasters. No violent shootings. No poisonous politics. Just blingy birds, crazy-big bees and blue people trying to set records. It's Smurf-tastic!
And if Olive the rhinestone-studded rebellious bird isn't strange enough for you, this last one weighs in even weirder. According to a report by Sam Hoisington, a man in India flew to New York last year to have the fingernails on his left-hand cut. He started letting those fingernails grow when he was 14, and he didn't cut them until he was 82.
It took a small circular saw to cut through the nails. The 82-year-old now holds the record for the longest nails on one hand, with a thumbnail that measured 6 ½ feet. The combined length of his nails measured nearly 30 feet (or roughly the length of a London bus, according to Guinness.)
Those fingernails, which are as gnarly and gross as you might imagine, are now on display at a Ripley's Believe It or Not museum in New York City's Times Square. Welcome to the bizarre (but oddly refreshing) world of strange news. Read all about it.
Gwen Rockwood is a mom to three great kids, wife to one cool guy, a newspaper columnist and co-owner of nwaMotherlode.com. You can read more of Gwen's work by clicking here to visit The Rockwood Files.