"Parents, take your mark."
0 Flares
Made with Flare

More Info

'>
0 Flares
×
I crawled into bed last night earlier than usual feeling completely exhausted. That swim meet really wore me out.
But I didn't swim a single stroke.
The kids did, though. They swam freestyle races, backstroke races, breaststroke races and a couple of relay races, too. And even though Tom and I were in the stands watching and cheering them on, by the end of the night it felt like I'd raced my heart out as well.
Every time the announcer said, "Swimmers, take your mark," a ball of nervous energy ballooned up in my chest. Then when the starting buzzer sounded, I stood up as the kids dove into the pool and held my breath while they sliced through the water as fast as they could go.
"Go, Kate, go! Keep going, Jack. You've got it! You've got it!" I yelled from the stands which were at least 20 yards away and above the pool. It occurred to me several times that my little racers couldn't hear a single word I was saying, particularly when their ears were under water while doing the backstroke.
But I kept cheering like a maniac anyway because it was the only way to deal with that ball of nervous energy swelling up in my chest. As they swam the length of the pool, I felt myself walking the length of the viewing stands, as if I could somehow help them swim faster if I drifted along with them.
When the kids touched the finish wall, I jumped up and down and waved my arms around as if I was on fire so they could see me celebrating for them. I high-fived Tom and then flashed a thumbs-up to the kids as they wrapped a towel around their shoulders after climbing out of the pool.
Then I'd sit down, catch my breath and wait for their next race to start, which would begin the whole process anew. After eight starts and eight close finishes, the two-hour swim meet was over and we met our racers on the pool deck.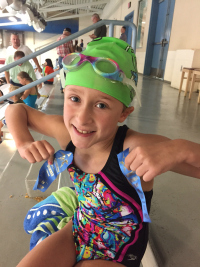 One of them was elated with two blue ribbons. One was devastated over a race lost by a fraction of a second. On the drive back home, I rode the waves of both high and low emotions spilling out of the back seat. Happy. Sad. Joyous. Frustrated. Thrilled. Downcast. We went to a burger joint and alternately celebrated and drowned our sorrows in a chocolate shake.
By the end of dinner and the bottom of the chocolate shake, the group consensus was that we were happy for the victories and looking forward to the chance to race for redemption some other day. (And really happy about the chocolate shakes.)
One of the many things they don't tell you when you bring a baby home from the hospital is that you won't just stand by watching your children's adventures. Your heart will go on all those adventures with them. You feel the nerves and the adrenaline. And you most definitely feel the thrill of victory and the sting of defeat.
Their highs and lows get added to the ones you've already got on your own. It's quite a roller coaster – one that sometimes requires an earlier bedtime just to recover and recharge. But oh, what a blessing to be on the ride.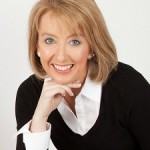 Gwen Rockwood is a mom to three great kids, wife to one cool guy, a newspaper columnist and co-owner of nwaMotherlode.com.  To check out Gwen's book, "Reporting Live from the Laundry Pile: The Rockwood Files Collection," click HERE.