Color me happy
0 Flares
Made with Flare

More Info

'>
0 Flares
×
As soon as I spotted it at the bookstore last week, I wanted to slap my forehead and say, "Of course! Brilliant! Why didn't I think of that?"
I rushed my copy of the "Zen Coloring Book" up to the front counter so I could pay for it. Yes, I'm a 42-year-old woman who got giddy about a new coloring book. But this is not your preschooler's coloring book. This one is for grown-ups.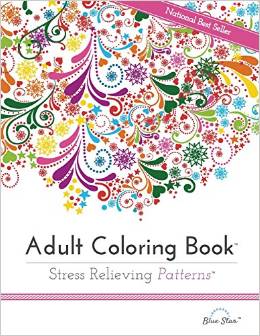 Similar books are sometimes called "mandalas" or "adult coloring books." (A friend pointed out that the phrase "adult coloring book" might make some people think that the pictures are of things you might see on a naughty pay-per-view channel. Trust me, it's not that kind of book.)
For adults like me who never outgrew our love of coloring, these books are amazing. Most of them contain intricate patterns – geometrics, florals and the kinds of things you might see in a kaleidoscope or a stained glass window – and all they need is someone who finds it fun and relaxing to sit and color them in with a handful of fine-point Sharpie markers or gel pens. And it's much easier to feel like a normal adult when you're coloring complex patterns and shapes instead of your daughter's book of Disney princesses. (Not that I've ever done that… more than a few times.)
Coloring books for grown-ups have recently exploded in popularity, with skyrocketing sales in stores and online. Reports documenting the trend have appeared in Time magazine and the Boston Globe. Most of the coloring books are marketed as "stress relievers."
And perhaps that helps explain why so many of us still love this simple hobby – because it forces us to be quiet and still and focused, three things we rarely get in our hurry-up-and-do-more society.
The stress relief is definitely an added bonus, but, for me, coloring offers a chance to do three important things: Number 1: It lets me do something that will stay done. I do laundry and dishes all the time but they get "undone" again in less than a day.
Number 2: Coloring lets me make something beautiful, and humans have a hard-wired need to create – whether it's a meal, a book, a detailed report at the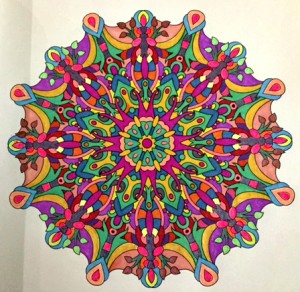 office, or just a pretty picture.
Number 3: Coloring appeals to my inner control-freak. Talk to anybody who colors and they'll eventually admit that controlling what color goes where gives us a little thrill. When one of my kids offers to "help" me color my picture, I promptly hand them one of their own pictures to color. (Is it not enough that I shared my body with you for 9 months, kid? Can I just color my own picture?)
At first I was worried that the kids would catch me coloring and think I'd mentally reverted back to preschool. Instead, they grabbed a few pens and a picture and sat down beside me because they still like to color, too.
Now if you'll excuse me, there's a purple Sharpie with my name on it. And that picture isn't going to color itself.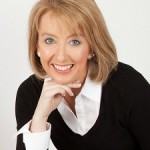 Gwen Rockwood is a mom to three great kids, wife to one cool guy, a newspaper columnist and co-owner of nwaMotherlode.com. To check out Gwen's book, "Reporting Live from the Laundry Pile: The Rockwood Files Collection," click HERE.