Birthday surprise
0 Flares
Made with Flare

More Info

'>
0 Flares
×
Surprised. That's how I look in my new driver's license picture. I laughed when the woman at the DMV handed me the new card because that happy yet slightly startled look on my face is exactly how I feel about turning a year older tomorrow.
Right before the photo, I reminded myself to smile and open my eyes wider so I wouldn't look tired in the picture. But I obviously overcompensated because the result looks more like a woman who is middle-aged, shocked and a little bit crazy.
As I waited for my mugshot, I thought about my late Aunt Eunice and the last time she stood in line at the DMV. She was 97 at the time, and she easily passed the vision test before smiling sweetly for the photo. It wasn't until the young clerk handed my aunt her renewed card that she realized she'd just given a driver's license to a woman who would be 101 years old before it expired.
The irony is that Aunt Eunice hadn't driven herself anywhere in years. Her 1982 Oldsmobile hadn't budged out of her carport in nearly a decade. Aunt Eunice said she needed to keep her license current, "in case of emergency." But the real reason she renewed it is because she never felt old enough not to need it anymore. Like so many of us, Aunt Eunice (who lived to be 105) was always surprised at how her physical age was so much older than how she felt on the inside.
My "inside age" is 27, which is just about perfect. It's old enough not to be an idiot but young enough to still have the strong, slim thighs of a twenty-something. As an internal 27-year-old, you can imagine my surprise when the topic of age comes up and I have to do the mental math of subtracting my birth year from the current year to make sure I'm remembering the number correctly, since it's always a year or two older than I expect.
Maybe the number surprises me because I'm in denial, or maybe it's because I agree with Judith Regan who once said that "The key to successful aging is to pay as little attention to it as possible." It worked for my Aunt Eunice, so I'm trying it, too.
I will admit, however, that these aging surprises happen more frequently now. Just last week I went to the clinic for a sinus infection and the nurse practitioner looked to be the same age as the girls I used to hire as babysitters for my kids.
And this year, for the first time ever, I'm old enough to have attended high school with two of the presidential candidates.
And I'm almost convinced that our local TV weather guy is actually a 12-year-old boy who stole his dad's suit and learned a few big words like "barometric" and "meteorology."
And there was that time I chatted with a fellow mother whose kids are several years younger than mine. As we talked, I considered us to be peers – right up until she said, "You know my mom read your column the whole time I was growing up."
Gulp. That surprise made me realize that, even though my inner 27-year-old might feel like her peer, the 43-year-old me was already working my first newspaper job while she was still in middle school. And that's okay because all those years have led me to the spot where I stand today, which is in line at the DMV, waiting for a bad photo that will hopefully last for another 8 birthdays.
Here's hoping I get to come back again when I'm 97.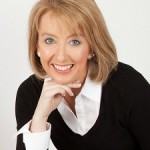 Gwen Rockwood is a mom to three great kids, wife to one cool guy, a newspaper columnist and co-owner of nwaMotherlode.com. To check out Gwen's book, "Reporting Live from the Laundry Pile: The Rockwood Files Collection," click HERE.