Vacation observation
0 Flares
Made with Flare

More Info

'>
0 Flares
×
As I mentioned last week, Tom and I recently drove our three kids 18 hours to the happiest place on Earth where we spent four days vacationing ourselves to the point of exhaustion. Why? Because Disneyworld is not cheap, and therefore "vacation math" must apply.
Vacation math states that, if you've paid to experience a Disney park but then don't see it all, you've left money on the table. So we laced up our tennis shoes and got an early start each day, determined to soak up as much magic as possible.
Even though it wasn't our first trip to Disney, it was the first one all three kids will remember. Like many parents, we took our kids to Magic Kingdom when they were little because we wanted to see that look of surprise and wonder on their little faces when they met Mickey Mouse in person. The only problem? They were too little to remember it. So this trip would cement those magical memories into family history.
Since the kids are now 14, 11 and 9, we skipped the long lines to meet Disney characters, but we stood in plenty of others, which gave me time to notice three things about our theme park adventures:
People watching is now rated PG-13. Sure, we were in Florida where the February weather was a lovely 68 degrees, but it wasn't warm enough for clothes made of mesh. I'm continually stunned by what people will put on their bodies before going to one of the most crowded places in the country. We're talking lacey, body-hugging scraps of clothes cut down to there and up to here. I don't know whether to be shocked or impressed that people are so comfortable with their own bodies. One teenager had on shorts that looked more like denim underwear, and on one of her legs was a tattoo of a huge sword that stretched from upper thigh to ankle. The other leg had a detailed picture of Johnny Depp's face, dressed up as The Mad Hatter. My 14-year-old son and I looked at the legs in front of us and then at each other and simply said "Wow," although probably for different reasons.
It's not just a stroll in the park. Thousands of other people were also using vacation math and trying to pack as much into their Disney day as possible, so navigating those crowded streets felt more like rush hour in Manhattan. Some of the parents driving strollers treated them less like a toddler transportation device and more like a personal wrecking ball capable of clearing a path through congested sidewalks. We walked around them as much as possible, which meant that my Fitbit step counter was finally, for once, impressed with my level of activity. One day I logged more than 18,000 steps, and the Fitbit is blissfully unaware of all the theme park food I ate that canceled out the exercise.
We discovered that our kids are not annoying. Sadly, some other people's kids are. Nothing will make you appreciate your own kids more than standing in line with hundreds of other people's kids. After an hour and a half of waiting for a chance to ride the new Seven Dwarfs Mine Train roller coaster, I'm happy and relieved that the stranger's kids behind us – the ones who kept whining and ramming into Tom's legs – have lived to tell about it. They have no idea how close they came to having a rather un-magical experience.
After four days of fun, tired feet and a not-so-quick 18-hour drive home, we're proud to say that a magical family vacation is in the books, and we all agree that there's truly no place like home.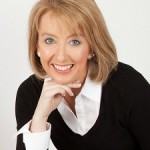 Gwen Rockwood is a mom to three great kids, wife to one cool guy, a newspaper columnist and co-owner of nwaMotherlode.com.  To check out Gwen's book, "Reporting Live from the Laundry Pile: The Rockwood Files Collection," click HERE.